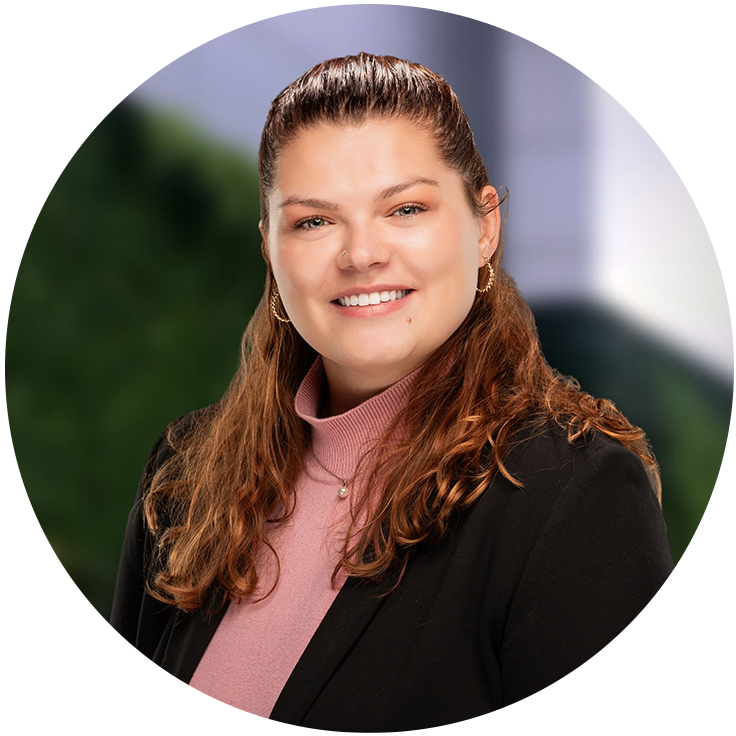 Cost of Cloud-Based Business Communications Solutions vs Traditional PBX
As a business leader, decisions about technology and upgrades most often hinge on one major factor: cost. The bottom line is, if the cost of a new business solution is above your budget, you likely won't be able to justify purchasing it. That's why it's crucial to find services with transparent pricing, so you can make informed decisions about where you'd like to focus your resources.
Most good business leaders know that communication can make or break an organization. If cost is a potential barrier keeping you from investing in a new cloud based communication system, here's a rundown of typical pricing to expect.
What are Traditional PBX Communications Systems?
PBX, or Private Branch Exchange communication systems would include the physical phones with dial pads that sit on your desk. Though a more traditional approach to business communication, modern PBX systems still offer many benefits to businesses. For small businesses that only require a few lines, they offer a simple way for staff to communicate with each other on a daily basis.
Where analog PBX falls short is with remote work. When staff work out in the field or at home, they will need a more portable option that will allow them to collaborate remotely. The good news is, there are hybrid phone solutions that include both the convenience of cloud phones and the practical functions of PBX systems. PBX phones may be a necessity for you if:
You need to be able to dial out to emergency services with an analog phone
Your business utilizes analog devices like pagers that are incompatible with cloud services
The business is located in an area where reliable internet bandwidth is not readily available
You have elevators that are only compatible with analog phone systems
Emergency Alarm Systems and Analog Systems
For aspects like emergency services, you can either keep your analog phone lines or convert your alarm systems to cellular. Make sure to ask your managed communications provider for their recommendations on the best course of action.
Analog Fax Machines
You might be concerned about the compatibility of your current fax machines with VoIP solutions. To solve this, a managed service provider can install an adapter to convert the ethernet VoIP line into analog for your fax machine. This will allow you to continue to use the analog device with a VoIP system. To read about other options for printing and faxing, read our blog: What is Cloud Printing?
What's Included in the Cost of PBX Phone Systems?
Traditional PBX systems require a bit more legwork for installation, as they involve physical hardware installation on-site. Some hosted PBX systems do allow for online meetings, but these extra features often come with added fees.
Costs will depend on the features you want to add or leave out of your package. Features that tack on fees would include parts, system administration and maintenance fees, and There are hybrid versions that have features from both cloud-based phones and PBX, so it's important to consult with a managed communications provider to find out what's best for you.
What is Cloud Based Communications?
Often also referred to as Voice Over Internet Protocol(VoIP) phone systems, cloud-based communication and collaboration systems are on the rise. As businesses prioritize flexible communication to accommodate remote employees, investing in internet-based collaboration has been a no-brainers.
This technology converts voice frequencies to a digital signal that travels via an internet connection. These digital signals can even be converted to or from analog frequencies, making it so you can make and receive calls from cell phones and landlines with a cloud phone.
Whether a cloud phone is right for you depends on the size of your organization, what functions you'll need for collaboration, and many other factors.
What Goes Into Pricing of Cloud-Based Business Communications Solutions?
Unified communications pricing for cloud based phone systems can range depending on the provider. However, the cost breakdown would compose of both installation costs and recurring monthly package costs. These packages will typically offer one flat rate for all of your chosen plan's features. Many providers will offer tiered pricing depending on factors such as:
Number of users you'll add
How much file backup space you need
Specific functions needed for video conferencing.
Extra features in addition to standard offerings
Installation costs will vary depending on your provider and your unique situation. This service does not require a company-paid phone, since calls can be made from existing company computers or personal smart devices that can support corresponding cloud applications.
Monthly Recurring Costs of Coud-Based vs Traditional Communications
According to Intermedia, cloud-based phone systems average cost is $25 per user each month. This might be a bit more or less expensive per user, depending on the factors mentioned above. The overall cost range for traditional PBX system that includes all the same functionality of a cloud-based system is between $108 and $138 per user each month. See the cost breakdown in the figure below.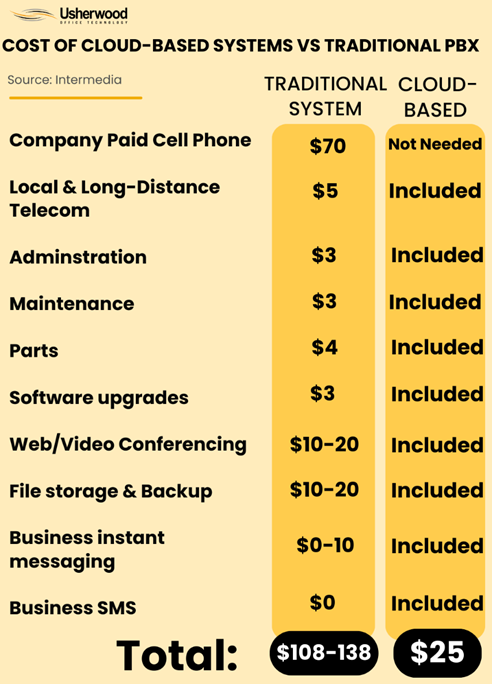 Additional Costs to Consider
Although the monthly licensing for cloud-based systems are a flat rate, there are other aspects to consider when you're considering moving to the cloud. With cloud-based communications platforms, you will likely need additional equipment to allow staff to seamlessly call one another without disturbing the whole office. These expenses may include:
Headsets with microphones
Web cams for desktop computers
Handsets if desired
To read more about which phone system could fit your business the best, read our blog Cloud Based Vs On-Premises PBX Phone Systems For Small Business.
Other Benefits to Moving to the Cloud
Ultimately, your unique needs will determine whether it's best for you to move to the cloud, stick with a PBX system, or use a hybrid phone system. You might need to retain existing phone numbers for various reasons. There are many factors other than price to consider, too.
To read more about different benefits of moving your business to the cloud, read our blog: 5 Benefits of Moving to the Cloud With Your Business Tools.
How to Migrate Your Business Tools to the Cloud
If you're interested in migrating your business tools to the cloud, it's important to learn about your options. Cloud services will range in price and scalability, so it's important to know what you need and what you can do without.
There are many technical details to iron out, so this process can feel overwhelming. The good news is a managed service provider can guide you throughout the selection, pricing breakdown, and installation of your chosen cloud service. To get started in finding the right services and tools for your business, click the button below to speak to an expert in unified communications.